Fluid Watercraft is a commercial rigid inflatable boat building company based in North America. With decades of experience in manufacturing, our expert team of designers and engineers build premium large RIBs for law enforcement, commercial, and military use.
With headquarters in Fort Lauderdale, Florida, Fluid Watercraft has historically built high-performing recreational and commercial rigid inflatable boats alike. Now, solely providing RIBs for municipalities and commercial use, Fluid Watercraft has concentrated their work in these specific areas to provide genuinely exceptional specialized service.
In partnership with South African builder, Gemini Marine – one of the world's leading commercial builders of RIBs since 1979 – Fluid Watercraft boats are built in Florida using Gemini Marine hulls, military-grade removable ORCA Hypalon tubes, and U.S. manufactured EPA/ABYC/USCG compliant components and structures. The result: reliable and safe RIBs that meet and exceed the demands of the North American marine market.
At Fluid Watercraft, we continuously work on improving our service so that we can find the best solution and be a reliable partner for all your boating needs.
The highest quality of production
Each and every Fluid Watercraft boat's hull, deck, and structural grid are constructed through the process of resin infusion. Infusion is a method of filling catalyzed resin into an air-free, dry, porous material. Once the materials are positioned in the mold, a powerful vacuum draws in the catalyzed resin through a series of tubes. This high-quality method of construction produces a unified, reinforced, rigid composite. This reproducible method provides dimensional control, regularity of weight, ensures a low-resin high fiber content, produces the optimum strength to weight ratio, and allows controlled placement of fiber direction yielding the same result time and time again.
This process is more precise as compared to traditional hand lay-up processes due to the ability to control the amount of resin infused as well as the position of the dry cloth. The weight variation is minimal (roughly 1% to 2%), a performance which is impossible to achieve with hand lamination. The combination of unidirectional E-glass, synthetic structural foam coring, and epoxy modified vinyl ester resin produces the strongest and most impact resistant laminate in the marine industry.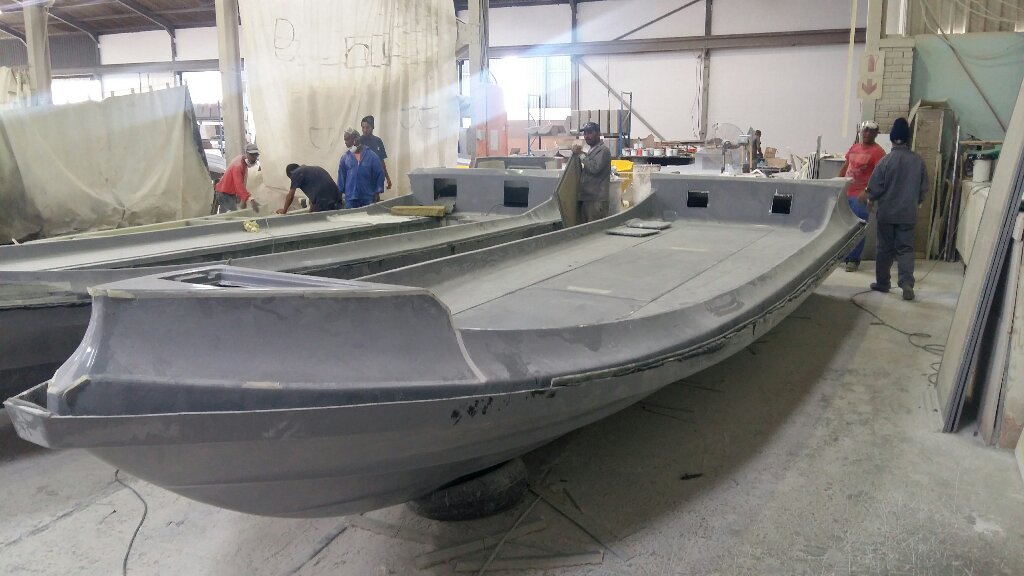 At Fluid Watercraft, we fuse the cutting-edge design, technology, and precision engineering of military aeronautics with the very finest marine craftsmanship. We are confident in the quality of our products.