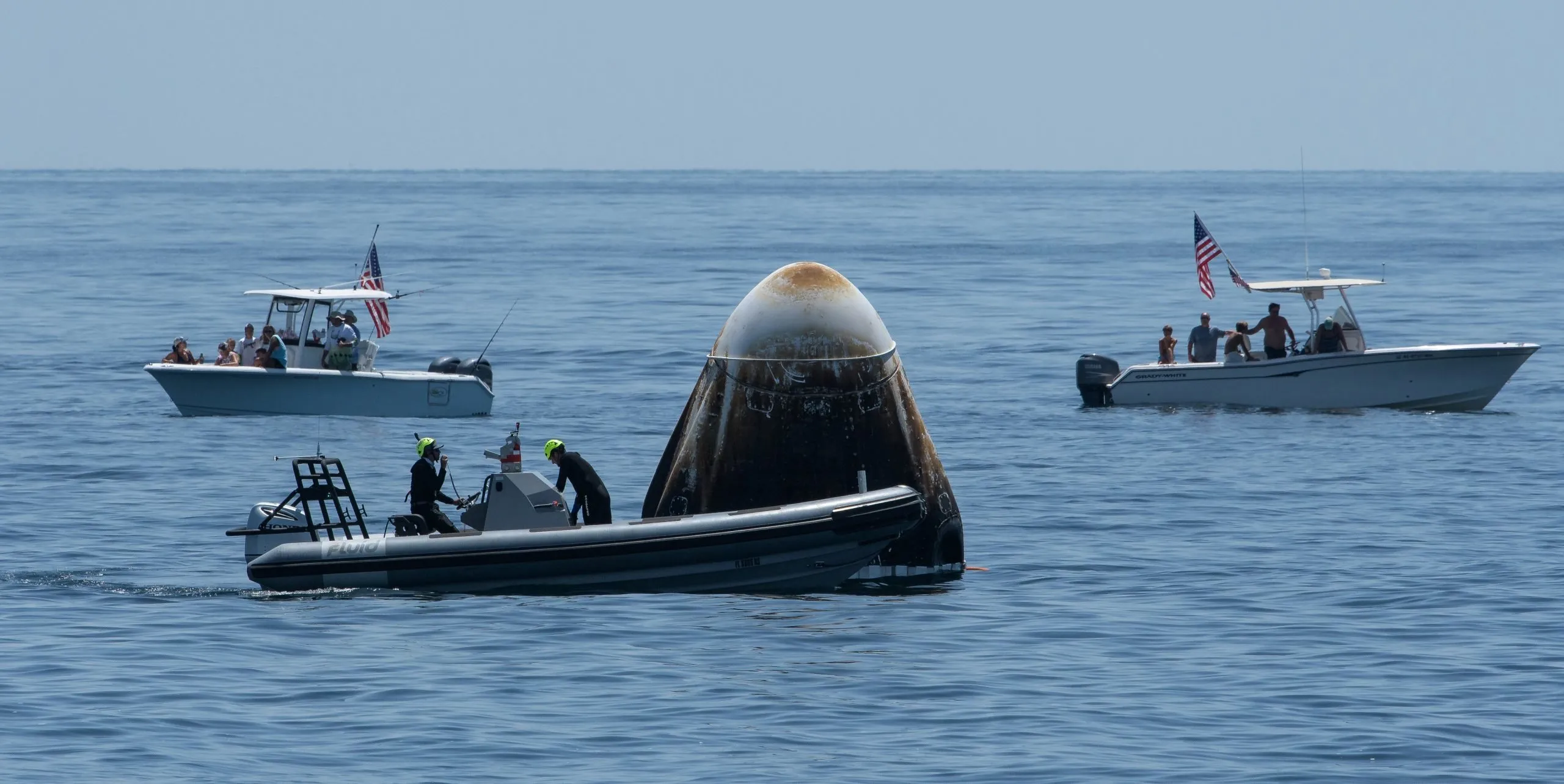 Two American astronauts have splashed down as the first commercial crewed mission to the International Space Station returned to Earth.
The SpaceX Dragon Capsule carrying Doug Hurley and Bob Behnken came down in the Gulf of Mexico just south of Pensacola on Florida's Gulf coast.
A recovery vessel moved in to pick up the Dragon Capsule and extricate the men.
The touchdown marks the first crewed US water landing since the final outing of an Apollo command module 45 years ago.
Hurley's and Behnken's capsule hit the water at about 14:48 EDT (19:48 BST; 18:48 GMT).
Private boats which came close to the Dragon were asked to leave amid concern over hazardous chemicals venting from the capsule's propulsion system.
Nasa administrator Jim Bridenstine said the presence of the boats "was not what we were anticipating".
"What is not common is having passersby approach the vehicle close range with nitrogen tetroxide in the atmosphere; that's not something that is good," he said. "And we need to make sure that we're warning people not to get close to the spacecraft in the future."
. . . read the rest of the article here.
---
Source: BBC
---
About Fluid Watercraft:
Fluid Watercraft is a commercial rigid inflatable boat building company with headquarters in Fort Lauderdale, Florida. With decades of experience in manufacturing, their expert team of designers and engineers build large premium RIBs for law enforcement, commercial, and military use.
All Fluid Watercraft vessels include a vacuum infused fiberglass hull, a removable main buoyancy tube made from the highest quality military-grade ORCA Hypalon Fabric, and U.S. manufactured EPA/ABYC/USCG compliant components and structures. Each model also has plenty of storage space for personal flotation devices, life cells, and fire extinguishers, making them ready for any mission. To learn more visit: https://fluidboats.com/