FORT LAUDERDALE, FL – Fluid Watercraft's recent deliveries of three new patrol boats – the 28ft Patrol 880 to Hollywood (FL) Police, and the 25ft Patrol 780 to Ottawa (MI) Sheriff's Office and Baltimore (MD) Police – reflect the nationwide demand for patrol boats. Police departments across the country are expanding their patrol boat fleet to manage the growing number of recreational boaters, many of whom purchased boats during the Covid pandemic.
According to the National Marine Manufacturers Association (NMMA), the rising sales of powerboats show no sign of stopping. "Boating is in demand, and retail unit sales remain elevated coming off of 2020's record year even as month-to-month sales momentum moderated in April as a result of continued supply shortages," said Vicky Yu, the NMMA senior director of business intelligence. With sales on the rise, commercial industries – especially law enforcement – have seen a need to increase their marine unit fleets to maintain order on the U.S. waterways.
"We've seen an increase in the need for RIBs on the market, especially at the commercial level," says Boyd Tomkies, CEO of Fluid Watercraft. "The unique design of our Patrol boats helps provide a greater operational workflow, and in turn a safer mission," Tomkies added.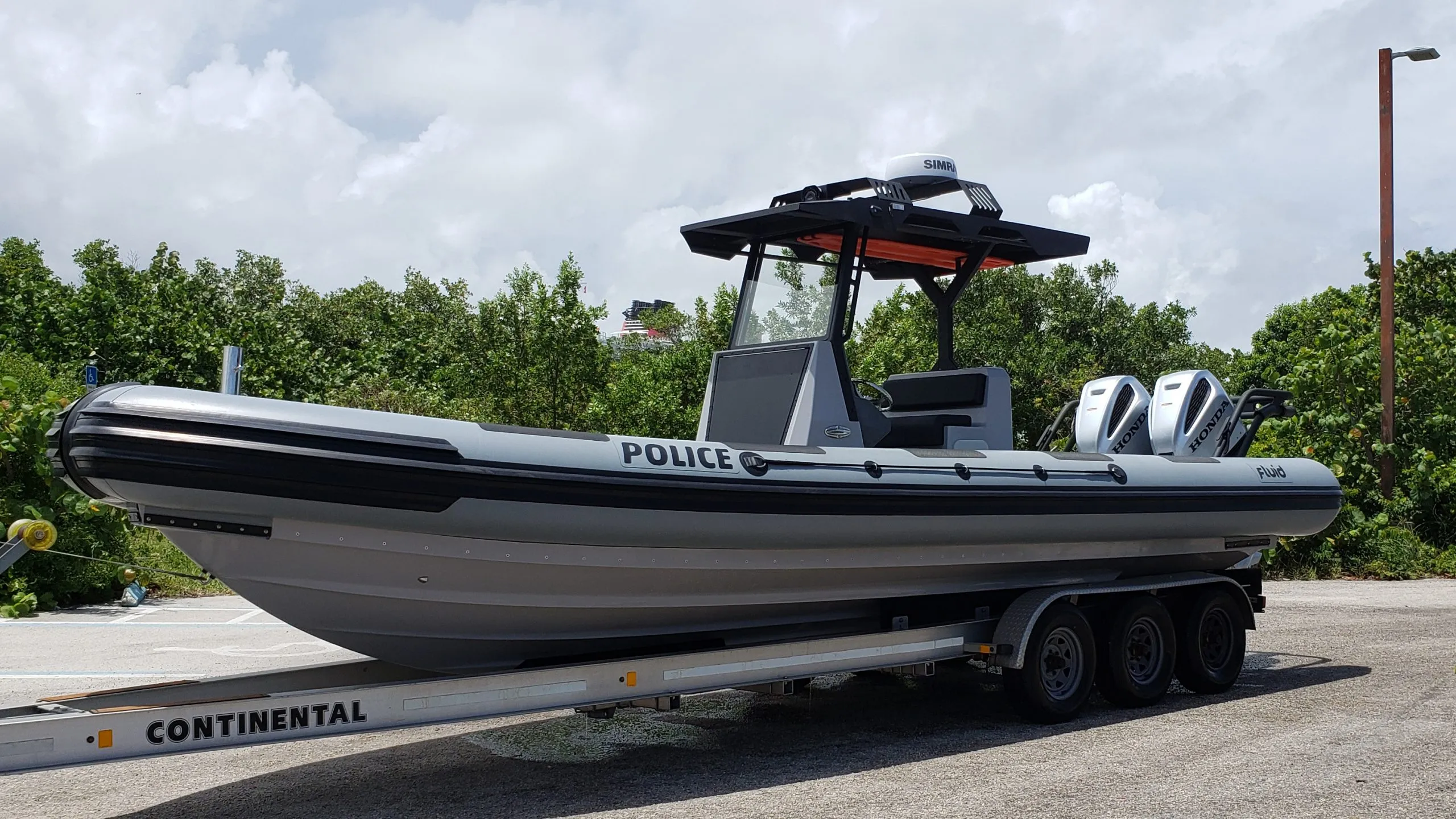 The newest addition to Hollywood Police Department's marine unit – the Patrol 880 –arrived just in time for peak boating season in South Florida. According to the United States Coast Guard, the state of Florida observed that nearly 10% of boating accidents involved alcohol as a contributing factor, the highest percentage as compared to other states. "Here in South Florida, we are recognized as the boating capital of the world. As the City of Hollywood is a coastal community – that includes almost 7 miles of beachfront and Intracoastal Waterways running through our city along with additional inland waterways – having officers on the water goes without saying," states Christian Lata, officer at Hollywood Police Department. The new Hollywood PD boat is equipped with twin 225hp motors, which allows quick response to medical emergencies, immobilized vessels, collisions, and other conflicts that may occur on the water. "When it was time to update our maritime patrol vessels, we chose Fluid Watercraft. We needed quality and reliability. Having good reliable vessels allows us to patrol the waterways, while educating our citizens, and assuring their safety," added Officer Lata.
Facing similar circumstances with the uptick in powerboat sales, Ottawa Sheriff's Office and Baltimore Police Department expanded their marine fleet in response to the growing activity on the waterways. With a LOA of 25′ 7″, a new Fluid Patrol 780 joined both the Ottawa Sheriff's Office and Baltimore Police Department. Both boats are rigged with a 300hp engine, allowing the boat to reach top speeds of 55mph to protect their local coastlines. One of the critical features of these boats is the life cell and the stowable spine board that glides perfectly within the aluminum T-top. Its easy accessibility has the double benefit of clearing up deck space so that officers can maneuver around the boat unhindered whenever duty calls.
---
About Fluid Watercraft:
Fluid Watercraft is a commercial rigid inflatable boat building company with headquarters in Fort Lauderdale, Florida. With decades of experience in manufacturing, their expert team of designers and engineers build large premium RIBs for law enforcement, commercial, and military use.
All Fluid Watercraft vessels include a vacuum infused fiberglass hull, a removable main buoyancy tube made from the highest quality military-grade ORCA Hypalon Fabric, and U.S. manufactured EPA/ABYC/USCG compliant components and structures. Each model also has plenty of storage space for personal flotation devices, life cells, and fire extinguishers, making them ready for any mission. To learn more visit: https://fluidboats.com/