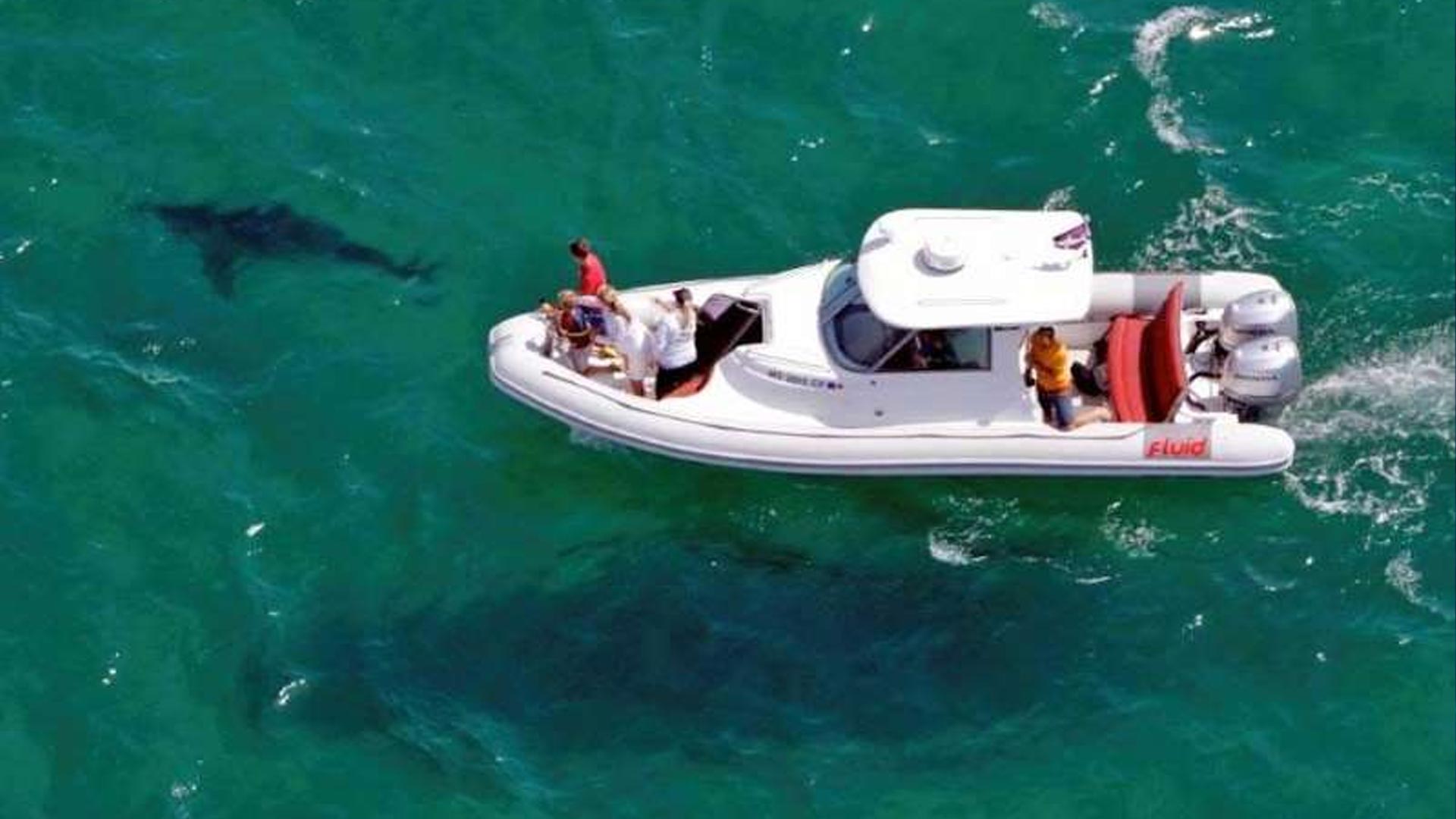 With a burgeoning seal population, the Cape Cod region attracts hundreds of great white sharks each summer, in turn drawing tourists interested in catching a close-up glimpse of these apex predators. Consequently, Cape waters have become a great white shark ecotourism destination with boats offering tours to view the largest predatory fish in the world.
But with great white sharks becoming a "booming business," there is a growing concern by the Atlantic White Shark Conservancy that too many tour boats could alter the behavior of the sharks and have implications for the species as well as for public safety, as reported by the Cape Cod Times.
So Atlantic White Shark Conservancy president Cynthia Wigren is calling for the Massachusetts Division of Marine Fisheries to consider regulating their ecotourism businesses before there is an explosion of boats and spotter planes.
"In South Africa … it's a huge industry, centered around white sharks," said Michelle Wcisel, a zoologist and behavioral ecologist at the conservancy, speaking Wednesday at a regional shark working group in Orleans Town Hall.
"Once the population estimate [from state shark scientist Greg Skomal's population study] comes out, you will have many people coming down here to do it. It's a multi-multi-million dollar business in South Africa."
The conservancy suggested ecotourism regulations similar to those used in the South Africa cage-diving industry. The ultimate hope is that the DMF will develop new rules governing a new industry. Some suggested regulations include establishing permits and limiting the number of permitted vessels to three.
"It's already a business, hiring a pilot and finding sharks," Wigren told the group, according to the Times.
Even the conservancy does it. The Atlantic White Shark Conservancy partnered with Chatham Bars Inn to sell seats on a boat that shadows its research vessel that tags great white sharks. Hotel guests pay $2,500 per person with the money going to research.
. . . read the rest of the article here.
---
Source: https://.usatoday.com/
By: DAVID STREGE
Top photo used with permission from © Wayne Davis and the Atlantic White Shark Conservancy. 
---
About Fluid Watercraft:
Fluid Watercraft is a commercial rigid inflatable boat building company with headquarters in Fort Lauderdale, Florida. With decades of experience in manufacturing, their expert team of designers and engineers build large premium RIBs for law enforcement, commercial, and military use.
All Fluid Watercraft vessels include a vacuum infused fiberglass hull, a removable main buoyancy tube made from the highest quality military-grade ORCA Hypalon Fabric, and U.S. manufactured EPA/ABYC/USCG compliant components and structures. Each model also has plenty of storage space for personal flotation devices, life cells, and fire extinguishers, making them ready for any mission. To learn more visit: https://fluidboats.com/