discover our military boats for sale: HERE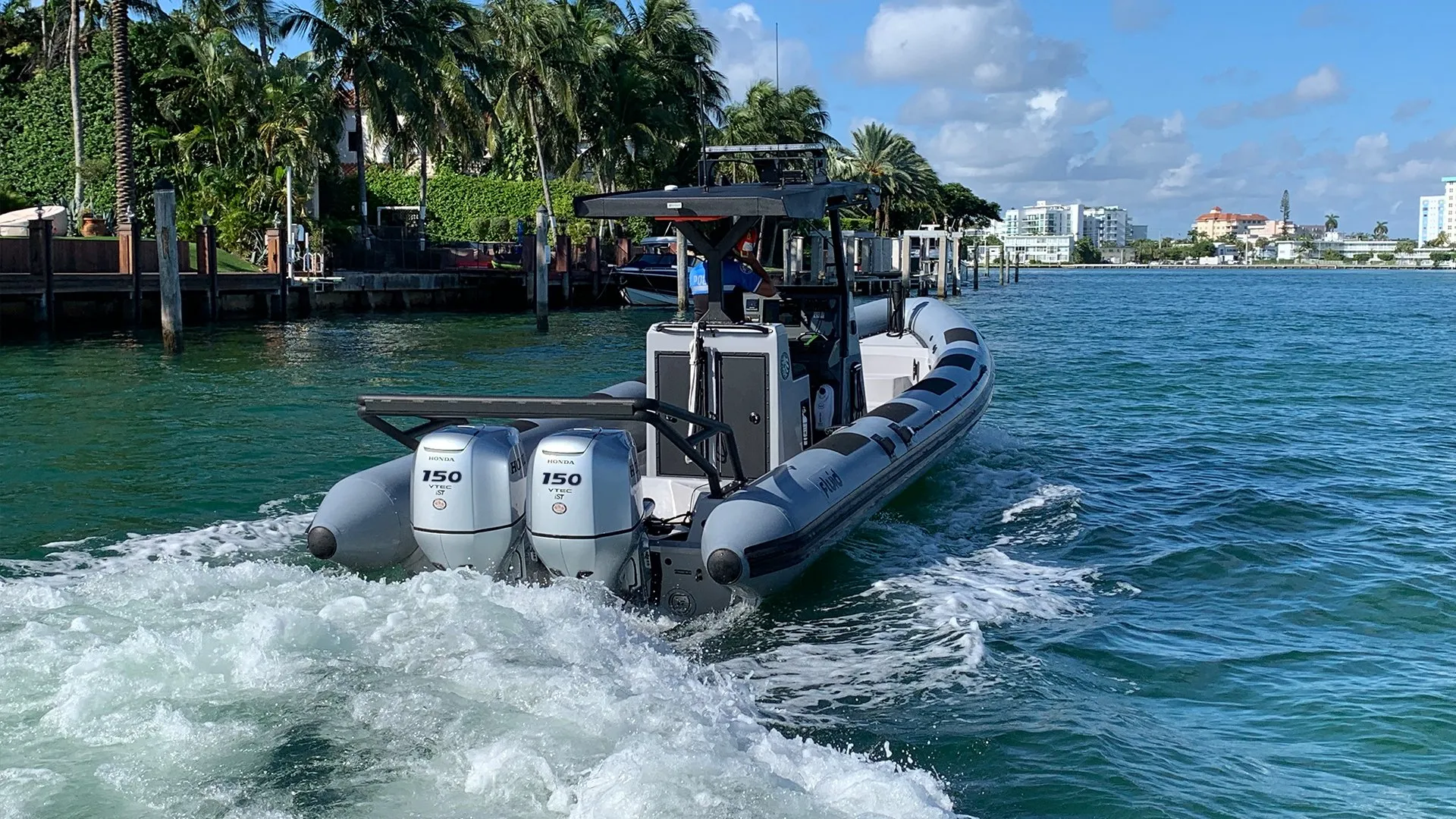 Military agencies demand durable and high-quality boats for their missions. That is why the boats are made by a core team of great engineers that make the boats stand up to the harshest conditions. Whether you are in the Coast Guard or Navy, we make sure there is a model that will fit your specific personal and mission needs.
BENEFITS OF MILITARY BOATS
Safety:

Most military tasks involve high-risk situations. For that reason, you should always be prepared for anything while you're out on the water. The unique designs of our military capable boats ensure the safety of the crew for any operational activity.

Affordability:

When you're looking to purchase a fleet of boats for your patrolling needs, it's important to consider the price. With these boats, you will not see yourself sacrificing quality to get an optimal market price.

Strength:

In military operations the boat will have to be exposed to very tough situations. The engineers have years of experience designing these type of boats to make sure yours will overcome the conditions you may face.
FIND A RELIABLE BOAT
When you purchase a boat having the peace of mind that the boat is built to resist the toughest wear and tear is highly important. You also need a high-speed and high-performance boat that provides the safety and durability that military operations need.
Here is a list of excellent military boats we offer that possess all those qualities at a great price.
1. PATROL 505
The Patrol 505 is a mid-sized patrol boat. It is designed to withstand the worst weather conditions and still maintain its maneuverability and speed. This 16ft RIB boat features an inflatable collar and a hard laminate hull. These provide stability and strength which make the Patrol 505 adequate for a wide range of commercial marine applications. The Patrol 505 is not limited to commercial use. In more than 40 countries like Tunisia, Portugal, Singapore, Oman, and many others it is used for rescue and military operations. This boat is the most common RIB along the coasts of the United States and makes up most of the fleet of the National Sea Rescue Institute. It has two amazing qualities, it is durable and affordable, which makes this inflatable patrol boat something to offer to everyone.
2. PATROL CABIN 880
The Patrol Cabin 880 is known as the Special Forces boat throughout the whole world. The cabin range is used by more elite sailors and soldiers than any other craft. Its unique hull shape is designed with removable lateral stabilizers, and various floor systems that allows it to carry combatants in a variety of missions. The hull shape can give the pilot unsurpassed maneuverability in various and dangerous conditions and also get a large load on the plane.
3. PATROL 780
The Patrol 780 is a professional boat designed to offer exceptional maneuverability and durability. This is the only boat of its type to have been used in combat. It has a unique hull shape that makes it optimal for commercial applications and patrol rescue. Since the Patrol 780 can carry up to 2,220 pounds, it is perfect for taking on almost any mission. With both speed and strength, this boat is made perfectly for rescue, patrol and use in combat settings.
4. TOW AND RECOVERY 780
The Tow & Recovery 780 is exclusively offered by Sirocco Marine. It is made for the public and commercial safety market. Fluid Watercraft produces one of the most rugged hauls out on the market with the finest material. All these Fluid Watercraft boats have a unique 2" wide aluminum beach keel plate to protect the hull from any incidental impact.
5. PATROL 880
The Fluid Patrol 880 is a 28-foot patrol RIB used in boating applications worldwide due to its proven ability in rough conditions. This large patrol boat adheres to the rigorous safety, performance and reliability requirements of government and military agencies around the world. The Patrol 880 is used in tactical, rescue, patrol, anti-terrorism, ship boarding, commercial, and military charter operations in more than 40 countries. The shape of the boat's hull also allows it to get a large load on the plane providing unsurpassed maneuverability in many risky situations. Patrol 880 is one of the most recognizable boats for Commandos and Special Forces.
---
About Fluid Watercraft:
Fluid Watercraft is a commercial rigid inflatable boat building company with headquarters in Fort Lauderdale, Florida. With decades of experience in manufacturing, their expert team of designers and engineers build large premium RIBs for law enforcement, commercial, and military use. All Fluid Watercraft vessels include a vacuum infused fiberglass hull, a removable main buoyancy tube made from the highest quality military-grade ORCA Hypalon Fabric, and U.S. manufactured EPA/ABYC/USCG compliant components and structures. Each model also has plenty of storage space for personal flotation devices, life cells, and fire extinguishers, making them ready for any mission. To learn more visit: https://fluidboats.com/