By Police1 BrandFocus Staff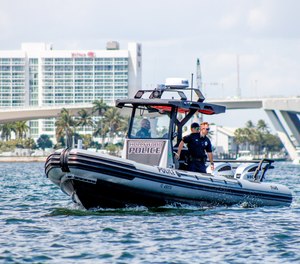 When police, fire and other first responder agencies decide to buy rigid inflatable boats (RIBs) for patrol, search, and rescue duties, they usually need them right now, not sometime in the distant future.
Granted, procuring such watercraft through the proper channels of purchase orders and such takes time. But this is precisely why patrol boat manufacturers need to fulfill these purchase orders as soon as they're approved – not make agencies wait another year or more for the boats they've ordered to be built, customized and finally delivered.
This is precisely why Fluid Watercraft of Fort Lauderdale, Florida – which makes three standardized models of RIBs specifically designed for law enforcement agencies – always has patrol boats already built and in stock, ready to be sent out to customers as soon as possible.
"Our goal is to have the inventory pre-built, so our deliverables are available in days to weeks, rather than one or two years, which is not the case with our competition," said Boyd Tomkies, CEO of Fluid Watercraft.
"This is possible because our RIBs are derived from a single common design and equipment layout," he continued. "This simplifies the manufacturing process, speeds up the production process and helps to keep costs down for customers."
ONE TOUGH BOAT
Fluid Watercraft began as a builder of high-performing recreational and commercial rigid inflatable boats. But the unique needs of the law enforcement community, and the company's proven ability to fulfill them, have led Fluid Watercraft to solely provide RIBs to first responders, municipalities and commercial users.
Stability and near-unsinkability even in the roughest of seas are the reasons that agencies opt for RIBs instead of conventional solid fiberglass boats. Thanks to their combination of rigid hulls and large inflatable tubes, RIBs are extremely lightweight yet tough. And because the air-filled tubes that provide their sides and bows serve as life preservers, RIBs stay afloat even when flooded by waves, which is not the case with fully hulled boats.
Fluid Watercraft's RIBs are built to be tough by using vacuum-infused, fiber-reinforced composite laminate hulls, military-grade removable ORCA Hypalon tubes and EPA/ABYC/USCG-compliant components and structures. The result is reliable and safe RIBs that meet and exceed the demands of law enforcement agencies at affordable prices.
THE BENEFITS OF STANDARDIZATION
What makes these RIBs ready for purchase is Fluid Watercraft's use of a common platform across three models: the center console 21'4" Patrol 21, the 25' 7" Patrol 26 and the 28' 11" Patrol 29 (which is also available with a closed cabin).
"We build all of them fully loaded with everything our clients need on the water, so they don't have to waste time going back and forth with our design teams," said Tomkies.
"Fully loaded" means that Fluid Watercraft's RIBs come with everything first responders need to work on the water, and that meets mission capabilities for every department in the United States.
"This is why our spine boards are integrated into our builds, whereas other manufacturers just lash the spine board to the boat wherever they can," Tomkies said.
Fluid Watercraft provides standardized storage containers on board to store safety equipment, flares and everything else safely, and in compliance with applicable regulations. They also back their products with reliable after-sales service and support, including repairs and tube replacements.
So why doesn't Fluid Watercraft just make one RIB instead of three? Different water environments demand different boat sizes to transverse them safely. Agencies that patrol river tributaries may find the Patrol 21 to best meet their needs. The Patrol 26 is ideal for larger bodies of water, with the Patrol 29 best suited for areas where the water can get rough.
NOT SLOWED BY COVID
The supply chain and human resources challenges posed by three years of COVID-19 have made the slow delivery of RIBs by other boat manufacturers even slower. But that's not the case with Fluid Watercraft. Even today, they have RIBs ready to go with everything that agencies need to make them run.
"When we speak to first responder agencies, they're pretty amazed that we have RIBs, engines and everything else they need in stock," Tomkies said.
THE CHOICE OF WATER-BASED PROFESSIONALS
The many advantages provided by Fluid Watercraft RIBs explain why their boats have been purchased by the California Department of Fish and Wildlife, and law enforcement agencies such as the Aventura Police Department and the Hollywood Police Department, both in Florida, the Baltimore Police Department in Maryland, and the Ottawa Sheriff's Office in Michigan.
To make the purchase of Fluid Watercraft RIBs even easier, the company has registered its products on the General Services Administration (GSA) Advantage section of the federal government's 1122 Program. Owned and managed by the Department of Defense, the 1122 Program gives state and local governments access to federal sources of supply to support counter-drug, homeland security and emergency response activities.
Being on the GSA Schedule makes it even easier for state and local governments to purchase Fluid Watercraft boats at prices that are lower than the competition, with delivery times that are fast enough for even the most pressing agency needs.
---
Source: Police1
---
ABOUT FLUID WATERCRAFT:
Fluid Watercraft is a commercial rigid inflatable boat building company with headquarters in Fort Lauderdale, Florida. With decades of experience in manufacturing, their expert team of designers and engineers build large premium RIBs for law enforcement, commercial, and military use.