At 5:30 a.m. on Tuesday, Capt. Alan Wentworth, the owner of Sea Tow Virgin Islands, got a phone call. As most of us know, when your phone rings at that time of day it's rarely good news. A 223-foot cargo ship had run aground near Charlotte Harbor in St. Thomas, U.S. Virgin Islands.
"I got called by the ship's agent, who asked me to go out there and get it off," Wentworth said in a phone interview this morning. "I had a similar-size vessel three years ago [run aground] about 50 feet to the left."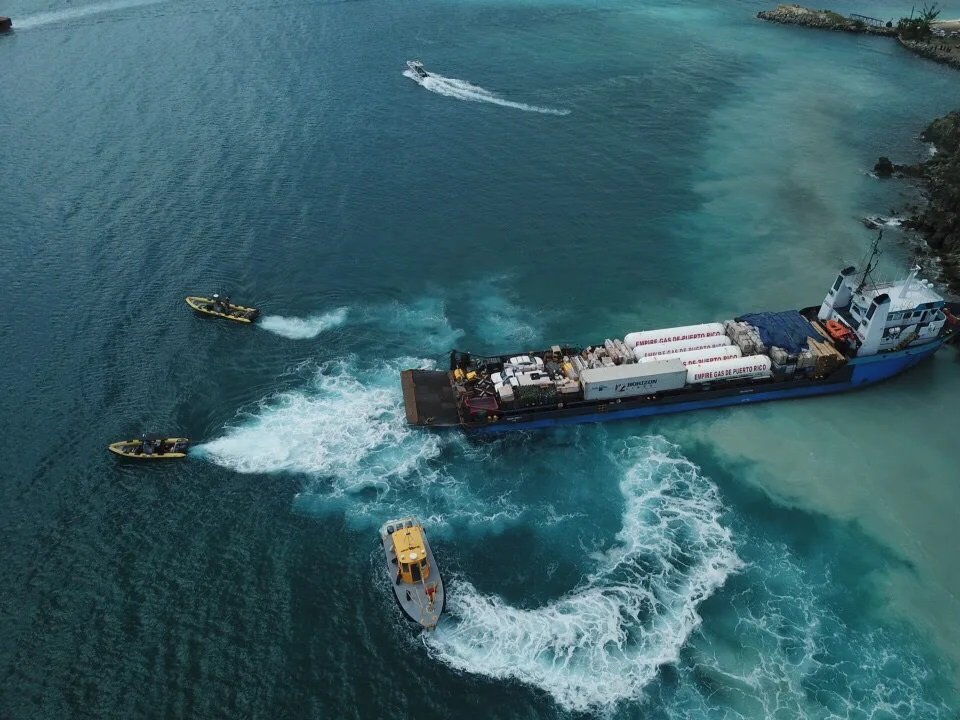 The ship, Ocean Spirit I, was around the corner from Wentworth's home, so he went down and met with the captain. He and the crew ensured that the hull had not been breached.
"They checked the bilges to make sure there was no water coming in and checked that no oil was going out," Wentworth said.
The U.S. Coast Guard also inspected the vessel and Capt. Anne Allard, the only diver in the Virgin Islands certified by the American Bureau of Shipping, dove beneath the vessel to further inspect it.
Wentworth explained that at least half of the vessel, which has an unladen weight of 852 tons, was hard aground. The most serious threat to the vessel was that it was moving back and forth on the rocks beneath it, which was basically the equivalent of grinding a file on the bottom of the boat.
The boat ran aground when the captain fell asleep after entering the channel. The cargo ship was coming from Puerto Rico and was loaded with more than $1 million of propane, lumber, automobiles, and other supplies that were needed for continued recovery from Hurricane Maria.
"That was an incentive to get it off before the next tide," Wentworth said. "It was all hurricane relief supplies."
About noon, Wentworth and his team from Sea Tow Virgin Islands got to work, pulling with a 25-foot Fluid rigid-hull inflatable powered by twin 250-hp Yamaha outboards and a 36-foot Fluid RIB with triple 250-hp Mercury outboards.
. . . read the rest of the article here.
---
---
About Fluid Watercraft:
Fluid Watercraft is a commercial rigid inflatable boat building company with headquarters in Fort Lauderdale, Florida. With decades of experience in manufacturing, their expert team of designers and engineers build large premium RIBs for law enforcement, commercial, and military use.
All Fluid Watercraft vessels include a vacuum infused fiberglass hull, a removable main buoyancy tube made from the highest quality military-grade ORCA Hypalon Fabric, and U.S. manufactured EPA/ABYC/USCG compliant components and structures. Each model also has plenty of storage space for personal flotation devices, life cells, and fire extinguishers, making them ready for any mission. To learn more visit: https://fluidboats.com/